There is no special theme this Friday for FFF, so I grabbed this recent picture of Beach Bunny shakin' her groove thang. Truth be told, she wasn't really interested in posing for me. I think she was actually running away saying, "Nooooo, Mama!"

Oh how I love that girl!

To see more FFF's, clickety HERE.
This week I am also participating in PhotoStory Friday (for the first time). It's so fun to try new things!

Have a wonderful Easter! He is risen!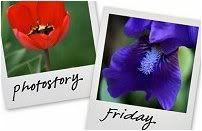 Hosted by Cecily and MamaGeek